 
Circuit Aragon - Motorcycle track Day
The Motorcycle Track Day pack at the Aragon circuit includes :
Access to the event at the circuit with First On Track.
Access to track days.
"Note" you cannot choose any additional options with this pack (pit box/transport/coaching/personal support).
Order summary
Invalide name and first name
Pilot already registered in your basket
NAME and FIRSTAME fields are required
Places for this level are no longer available
Please choose a date
Please choose a level group
Motorcycle track days at the Aragón circuit:

Aragón… This circuit has marked the beginning of the season at First On Track for several years.
The motorcycle track days organised at the Aragón circuit by First On Track take place on the same layout as the MotoGP, with a length of 5.1 km. The track width varies from 12 to 15 metres. The route has ten left-hand bends and seven right. It is a sumptuous layout! Climbs, downhill stretches, immense never-ending curves… You need all four days to defeat the Aragón circuit!
Also known as "Motorland Aragón", the circuit is located near Alcaniz in Spain. It is a recent circuit, built in 2009. The infrastructure at Motorland Aragón is very modern. Safety is ensured by a system of traffic lights and cameras and a highly professional team of resident stewards.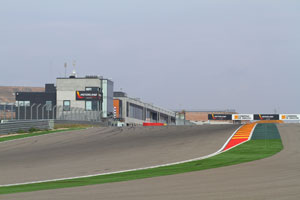 Practical information for riding at the Aragón circuit
Option of free camping in the paddock. WCs and sanitation facilities are freely available.
Noise limit: 102 dB.
Free access for accompanying persons.
Option of hiring a pit box
Catering: snack bar for lunch (meals not included in the registration fee).
Service station 3 km away at the entrance to Alcaniz.