 
Circuit Mugello - Roulage moto
The Motorcycle Track Day pack at the Mugello circuit includes :
Access to the event at the circuit with First On Track.
Access to track days.
"Note" you cannot choose any additional options with this pack (pit box/transport/coaching/personal support).
Order summary
Invalide name and first name
Pilot already registered in your basket
NAME and FIRSTAME fields are required
Places for this level are no longer available
Please choose a date
Please choose a level group
Motorcycle track days at the Mugello circuit.
Mugello... For many riders, this is simply the best circuit in the world! And we all remember extraordinary Italian Grand Prix races at this circuit. Lying in the heart of Tuscany, 30 kilometres from Florence, the Mugello circuit is surrounded by a magnificent region.
Mugello is a hilly circuit, which gives it all its character. It offers very fast curves, several bends entered downhill, slow turns… A very rich layout! The Mugello circuit is 5.245 km long. The route has six left-hand bends and nine right.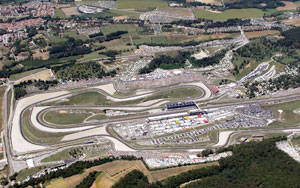 Practical information for riding at the Mugello circuit
Option of free camping in the paddock. WCs and sanitation facilities are freely available.
Noise limit: 102 dB.
Free access for accompanying persons.
Option of hiring a pit box.
Catering: very good cafeteria at the circuit.
The service station only accepts credit cards.
For discounted prices on travel to the Mugello circuit, contact us.