 
Circuit Le Mans - Motorcycle track Day
The Motorcycle Track Day pack at the Le Mans circuit includes :
Access to the event at the circuit with First On Track.
Access to track days.
"Note" you cannot choose any additional options with this pack (pit box/transport/coaching/personal support).
Order summary
Invalide name and first name
Pilot already registered in your basket
NAME and FIRSTAME fields are required
Places for this level are no longer available
Please choose a date
Please choose a level group
Motorcycle track days at the Le Mans circuit
Le Mans... There's a name that inspires dreams! You immediately think of the Dunlop curve, the La Chapelle bend, the Chemin aux Boeufs chicane… All these names are associated with the 24 Hours of Le Mans and the French Grand Prix, the two main motorcycle events hosted at the Le Mans circuit.
The Le Mans circuit is 4.180 km long. The route has four left-hand bends and nine right. A few years ago, Mick Doohan described the route as a "rocking horse", considering it as just a sequence of acceleration and heavy braking. This was a very unfair criticism – on the contrary, the Le Mans circuit requires a very fine focus on the line. The route is an endless source of pleasure!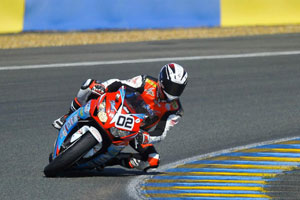 Practical information for riding at the Le Mans circuit
Option of free camping in the paddock. WCs and sanitation facilities are freely available.
Noise limit: 102 dB.
Free access for accompanying persons.
Option of hiring a pit box.
Catering: snack bar in the paddock (meals not included in the registration fee).
Service station 3 km from the circuit.
Note that the Le Mans railway station is about 5 km from the circuit and there is a direct tram link.
For discounted prices on travel to the Le Mans circuit, contact Ludovic or Yvan.