 
Circuit Misano - VIP Pack
The VIP pack at the Misano circuit includes :
Access to the event at the circuit with First On Track.
Access to track days.
Two days of coaching with a First On Track instructor.
A place in the pit box for your bike.
All the fuel needed for your track days.
Three nights of accommodation for your stay.
Allyour meals during your stay.
A photo feature and video souvenir.
This is the First On Trackall-inclusive pack.
Order summary
Invalide name and first name
Pilot already registered in your basket
NAME and FIRSTAME fields are required
Places for this level are no longer available
Please choose a date
Please choose a level group
Motorcycle track days at the Misano circuit.
Located on Italy's Adriatic coast, near the town of Misano Adriatico, the Misano circuit has 16 bends (six left and ten right) and is 4.064 km long. The track was completely resurfaced in 2015.
While the Misano circuit is flat, with no inclines, it is nonetheless very technical and extremely enjoyable. The route has a number of very tight bends that require careful attention to the apexes, together with sequences of very fast curves…
The Misano circuit has hosted the San Marino motorcycle Grand Prix since 2007.
Following the death of Marco Simoncelli at the Malaysian Grand Prix in 2011, the circuit's directors decided to rename the circuit after the Italian rider: Misano World Circuit Marco Simoncelli. It was at the Misano circuit that Jean-Michel Bayle achieved one of his two GP500 pole positions.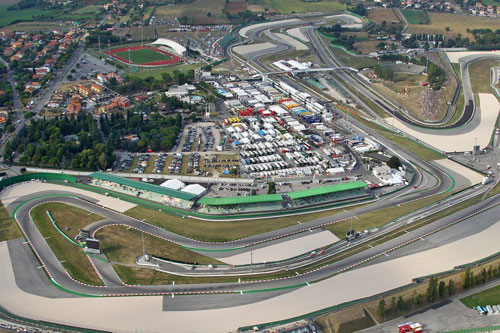 Practical information for riding at the Misano circuit
Option of free camping in the paddock. WCs and sanitation facilities are freely available.
No noise limit.
Free access for accompanying persons.
Option of hiring a pit box.
Catering: restaurant with pool at the circuit open mornings, lunchtimes and evenings. (Meals not included in the registration fee)
Service station in the paddock. (cash only)
The Misano circuit is close to the beaches of the Adriatic coast and the famous village of Tavullia, where Valentino Rossi lives. If you're one of the rider's fans, don't miss a visit!