 
Circuit Portimao - VIP Pack
The VIP pack at the Portimao circuit includes :
Access to the event at the circuit with First On Track.
Access to track days.
Two days of coaching with a First On Track instructor.
A place in the pit box for your bike.
All the fuel needed for your track days.
Three nights of accommodation for your stay.
Allyour meals during your stay.
A photo feature and video souvenir.
This is the First On Trackall-inclusive pack.
Order summary
Invalide name and first name
Pilot already registered in your basket
NAME and FIRSTAME fields are required
Places for this level are no longer available
Please choose a date
Please choose a level group
Motorcycle track days at the Portimao circuit.
The Portimao circuit is very recent, opened in 2008. It is a magnificent track, where the Portuguese leg of the World Superbike and Supersport Championships is held. The Portimao circuit is located in the Algarve in southern Portugal. This is a spectacular region, with its ochre hills plunging into the sea… which is only 20 minutes from the circuit.
Climbs, downhill stretches, blind corners, very fast curves… The Portimao circuit may be the most technical of the season, but it is also the most fun! The Portimao circuit is 5.592 km long. The route has six left-hand bends and nine right.
Clearly, to get the most enjoyment from riding on the Portimao circuit, you will need to get some practice on the track.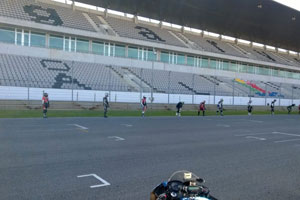 Practical information for riding at the Portimao circuit
Option of free camping in the paddock. WCs and sanitation facilities are freely available.
Noise limit: no limit
Free access for accompanying persons.
Option of hiring a pit box
Catering: cafeteria at the circuit. (Meals not included in the registration fee)
Service station: bring some jerrycans, as it is quite far from the circuit.